Stake Casino Review
In one word, Stake is a statement casino.
It has built a recognizable brand that stands for high-quality and state-of-the-art experience. Thanks to its luxury media presence and superior gaming potential, Stake casino has gained status of extravagant place anyone with healthy ego wishes to be seen at.
Or put it this way: what is Louis Vuitton in fashion, that is Stake in crypto casino world.
Stake is a celebrity in the company of such. It has surrounded itself with Drake, legendary Kun Aguero, UFC stars Israel Adesanya and Jose Aldo and other premium sport celebrities.
So, you know what kind of treatment you can expect. Celebrity-like!
It was founded in 2017 and it's been operating under Curacao license.
Pros
No wagering requirements on the winnings
You can buy crypto on site
Vault function that allows for real instant deposits and withdrawals
Cons
No standard welcome bonus

$500 wager threshold for entering official Telegram channel
Stake Casino Bonuses & Promotions

Stake's delicacy is not just in design. As befits a celebrity, once you decide to register with Stake you will be rewarded with bonuses and promotions crafted for high living.
Welcome bonus
Although there is no standard welcome bonus – which we consider as a minus no matter what the other promotions offer – there is a way Stake says Welcome to (most of) their players. And the fact you're on Casinery right now means you are that lucky fellow!
5% Rakeback
What you get as a welcome gift is a 5% rakeback with no wagering requirements whatsoever! This a promo you would normally get only after wagering 10k. But with our code, you get it from the start! It's ok, you'll thank us latter.
In order to claim your welcome offer:
1. click the Play Now button or here
2. register
3. enter the bonus code CASINERY in the Offers tab in your account
4. do this in the first 24 hours upon registration or the promotion will expire
Rake or house edge is the amount of money casino expects to earn from each game and it is usually 3.5-4% of every bet you place. There are of course games with a 2% edge which is considered low. But if you, for example, wager 1 BTC on a 2% edge you will get 0.001 BTC bonus. As soon as you get it, you are free to either spend it or cashout.
As soon as you settle, you can start wagering and unlocking other promos. For true crypto fans, Bonus drops is a must! One of the favorite and the most exciting games for many, requires you only to be present on Stake casino's Twitter or Telegram account where you'll be able to grab your code and start a dance! You should know, though, that Telegram is only available to players who wager at least $500.
And speaking of social media, community chat box is that little detail that makes so much difference in the casino experience. Specifically, it is a fingerprint of crypto communities of all kinds and, of course, Stake has one. However, in order to join the community, you should show you're a serious player by wagering at least $500 in currency of your choice. And on top of that, if you wager $3k in 7 days you become eligible to participate in Chat rains which spill bonuses once per hour.
Daily Races

And now we get to the point! One of the top promotions is Stake's Daily Races with a prize pool of $100 000! The rules are pretty simple: with the first bet you place you automatically enter the race. Every next bet brings you one step higher on the leaderboard. If you manage to beat other participants to enter top 100 racers you will share this enormous prize pool.
$50 000 Weekly Giveaway

Unlike Daily races where there is no entering requirement, for the next promotion – $50 000 Weekly Giveaway – you need to wager a minimum of $1000 in the week prior to giveaway to get 1 ticket. Your ticket number is visible in the VIP section of your account. More tickets you get more chances you have to win the prize. Speaking of that, $50 000 prize pool (prizes are paid in BTC!) is shared between 10 winners drawn on live stream which is super exciting!
Casino Challenges

Among regular, i.e. long-lasting promotions, there are also Casino Challenges where you can win various prizes by completing tasks involving new games and the all-time favorite Pragmatic Play's Drops & Winswith the prize pool of $1 000 000 on selected slots and, from recently, live games as well!
Random Drops

When talking about live games, there is Evolution's Random Drops promotion for live casino games onlywith a prize pool of $5 000 shared by 10 randomly selected players who get $500 each. There are two requirements attached, however. Firstly, you need to wager at least $1000 on eligible (of course) Evolution games in order to qualify. Secondly, your bet needs to be at least $20 in currency equivalent. On top of that, if you have an active affiliate account you're not eligible to use this promotion.
Stake vs. Eddie

Stake vs. Eddie is an exciting promotion in which you need to beat Eddie's multiplier on a game which is different every week. Once a week Eddie plays a selected game for 1 hour and posts his highest multiplier for everyone to see. You have 1 week to beat it with a minimum bet of $0.05. If you succeed, you get a share of $20 000 prize pool which is split evenly between all the qualifying players.
Level Up

The similar principle applies to the Level Up promotion, only here you have 5 selected games (different every week) with pre-set multipliers which you should beat in order to participate in the share of $10 000 prize pool. The minimum bet in this promo is set to $0.1 in currency equivalent.
Multiplier Race
Very much alike, but, again, not the same, is Multiplier race promotion in which you measure your luck with other players in 4 selected games for the prize pool of $5 000. Only 20 lucky players get the prize. The minimum bet is $0.1 and the first prize is $2000. Other prizes are gradually getting lower so if you're between 11th and 20th on the list, you get $50.
Important: Bonus buy bets do count for these 3 promotions but if you use this feature your multiplier will be much lower. In this case the amount of money you paid for bonus will count as an initial bet, so for example, if you win $100 with $20 bonus buy that is only 5x multiplier. Pretty low compared to $100 won with $0.05 multiplier for example.
Last but not least, Stake gives you the opportunity to Conquer the Casino by being the best in playing new games. This promotion actually, gives you an extra reward for being the best. How does it work? Well, if you're lucky enough to hold the first position in the highest multiplier for the week (Lucky wins) or for the largest payout for the week (Big wins) in one of the selected games, you get an additional cash prize!
Important: In case you get a deposit bonus 'on the house', you should know that there is a wagering requirement attached. It can vary from 1% to 4.5% of the house edge. This means that, for example, if the house edge for a game you're playing is 1% your wager will be 25x. What is most important, until you meet the rollover requirement, your account will be locked for placing any more bets and withdrawing any winnings. Also, the list of games that don't participate is quite long so be careful while playing with your deposit money.
Stake Casino VIP Program
Stake's VIP program is considered to be among the best out there. It's no surprise given that by now, they've given over $1 Billion in bonuses (yes, you read it correctly, $1 Billion)! But before we agree they're worth carrying this shiny title, let's see what you need to do to get some extra perks.
First of all, let's say that there are 7 tiers of the VIP program. As soon as you sign up you set off to the journey. When you wager $10k you become Bronze level, then with $50k Silver, at $100k Gold, then go 3 levels of Platinum I and 3 levels of Platinum II and the highest is Diamond level, a dream of every player. You can always check how much you need to wager to climb up to the next level in the VIP progress bar on your account page.
So what are the perks?
At Bronze level, in case you haven't grabbed that 5% rakeback with the affiliate referral code in your first 24 hours, now you have a chance to do so. You also get access to Stake's Telegram VIP channel where you can find Bonus drops codes and other special promotions.
Starting from Bronze level, you'll also start receiving Weekly and Monthly bonuses, as well as Level up bonuses. You get your Monthly bonus once a month, around 15th. You never know the exact date but that's the part of the game! It always gets delivered via email, so keep an eye on it. Or both of them.
So at the Bronze level – and the Gold and Platinum as well – your Monthly bonus will be delivered in smaller daily portions, whereas at the Platinum and Diamond level you'll get it in a form of one bigger bonus.
It's interesting that there's something called recent gameplay bonus which is actually a bonus that you get for wagering more in a specific time frame. So, for example, as Monthly and Weekly bonuses are calculated based on your VIP level, they will get bigger with every $1000 wagered in the corresponding time period. And it's similar for the Level up bonus which is normally fixed but could get bigger if you wager more.
At higher VIP levels – Platinum II and Diamond – you will even get your personal host! That's right, whatever you need you'll always have somebody to be at your disposal. Also, this is when you'll become eligible for a Reload bonus – a special bonus that is based on your wagers and the fact whether you're winning or losing. You can choose between daily, hourly and 10-minute reloads.
Payments (Deposits & Withdrawals)
Stake casino accepts only crypto money.
However, from recently Stake has added a great feature a lot of players had desperately needed for a long time – an option to see all the crypto values in fiat money (EUR, USD and JPY) as well. This way you'll be able to more easily keep record of your wagers, spending and, well, winnings!
A fiat option, however, doesn't by any chance mean that you'll be able to deposit or withdraw in fiat. It's only there to provide the means for you to better understand what you're doing on the website. Having that said, be aware of the extremely high volatility of crypto money which in combination with fiat values may alter your perception on how much you've spent and earned. It is also possible that sometimes your balance shown in fiat seems incorrect. In that case, know that only crypto balance is what counts.
When it comes to keeping your money on your account even at times when you're not on site, Stake has come up with really convenient solution called Vault. Using Vault, you can get around all the waiting for blockchain confirmations and unpredictable network fees – because money is already uploaded. On top of that, you can bet your money is safe up there as it requires 2FA, email verification or other methods you've opted for.
Minimum deposit depends on the crypto coin you're using for playing and it will show on your Wallet. When you make a deposit, dig for some patience as you will still have to wait a bit for a network confirmation (unless, of course, you're using the Vault function).
Accepted currencies and networks: BTC, ETH (ERC20, BEP20), LTC, USDT (ERC20, BEP20, Matic), XRP, EOS, TRON (TRC20), BNB (BEP20), USDC (ERC20, BEP20, Matic), BCH, DOGE, APE (ERC20), BUSD (ERC20, BEP20), CRO (ERC20), DAI (ERC20, BEP20, Matic), LINK (ERC20, BEP20), MATIC (ERC20, BEP20, Matic), SAND (ERC20), SHIB (ERC20, BEP20) and UNI (ERC20, BEP20).
Important: You can transfer Tether (USDT) via Ethereum network or the Binance Smart Chain. If transferring via BSC your network fee will be lower but you'll need to have a small amount of BNB in your wallet.
You can find your deposit address if you go to a Wallet section and then to Deposit. Choose your currency and you'll be able to see your deposit address. Inside your Wallet, under 'Buy Crypto' you'll also have an option to buy crypto directly via MoonPay service. Thanks Stake for this because it really saves you time and unnecessary trouble.
As we said, Stake is an only-crypto casino which means that you always need to double – check if you have entered correct payment info. Except the wallet address, be sure to choose the network, as well as to include a memo or a tag of the transaction in case you're playing with Ripple (XRP).
As for cashouts, there is a minimum cashout amount which is different for every coin and there is also a fee which is in some cases directly deducted from your balance. The exact numbers for both you can see just below the 'Withdraw' button at the withdrawal page within your Wallet. Just for example, min cashout for BTC is 0.0002 BTC (fee is 0.00007 BTC), for ETH 0.004 ETH (fee is 0.0005 ETH), for USDT 2.5 USDT (fee is 1 USDT), for EOS 2 EOS (fee is 0.1 EOS) and so on.
We're happy there's no maximum withdrawal amount.
Important: Stake is very serious about strictly sticking to Anti-Money Laundering policy. As part of that, your deposit address must be the same as your withdrawal address and in some cases it would be necessary to fully complete KYC procedures.
Games & Providers
Unlike some casinos, Stake doesn't have 5 or 6k games, but the ones it has are carefully selected, with beautiful graphic and lovely multipliers. With about 2k games from over 35 providers including Pragmatic Play, Evolution, NetEnt, BGaming, Spinomenal, Endorphina and many more it's still quite a collection.
When it comes to the most popular category, slots, there are over 1.7k of them including 18 slots you can find only at Stake under category Stake exclusives. Stake originals is the collection of 18 in-house provably fair games. There are all kinds of slots ranging from Double rainbow which is a colorful girly slot on one hand to Hand of Anubis, a dark horror slot on the other.
Don't know about you, but our favorite thing in slots is the Buy in feature! It's like excitement on steroids! The very sound of reels turning and stopping, money pouring in, multipliers blinking – the sound of a casino – makes your blood run faster. And we appreciate Stake has a special category for these.
Live casino games, Table games and Game shows categories have games such as Roulette, Black Jack, Baccarat, Monopoly and many more.
Important: There are certain territory restrictions posed by some providers, mostly NetEnt.
Security & Fairness
Among the usual safety measures such as holding your passwords to yourself, Stake casino encourages all its players to link 2 factor authentication to their accounts. Once set up, it will request that you enter a code you'll receive on your mobile, along with your user name and password, every time you log in, deposit, withdraw, use Vault or perform any other money-related action on the website. This adds up to the security so your funds be double protected.
Stake is very serious in sticking to Anti-Money Laundering policy and its most important for players is that coin mixing is strictly forbidden. What this means is that you can't deposit and withdraw without playing any games or using just a small amount of your deposit for betting.
Also, we rate highly Stake's commitment to responsible gambling and the fact that once you opt for Self Exclusion option it can't be reversed (there is only an option for total self-exclusion)! However, in case you go for this option, there will be a 24-hour cool off period prior to complete exclusion, so you will have enough time to reverse your decision if needed.
On top of all this, all the Stake exclusive games are provably fair so we think they have security and fairness covered.
Support
Support is available at all times to resolve issues, advice or to hold your back. Their answers are most of the time short and practical which we consider as plus.
Support is mainly in English, but they do have Japanese, Spanish speaking and Portuguese speaking support as well.
Besides Live casino support there is also an option to contact support teams of game providers if, for example, a problem during playing a game occurs. You just need to click on the headset icon of your in-game screen. For now, it is available for Evolution and Pragmatic Play. This represents a whole new level of support to the players.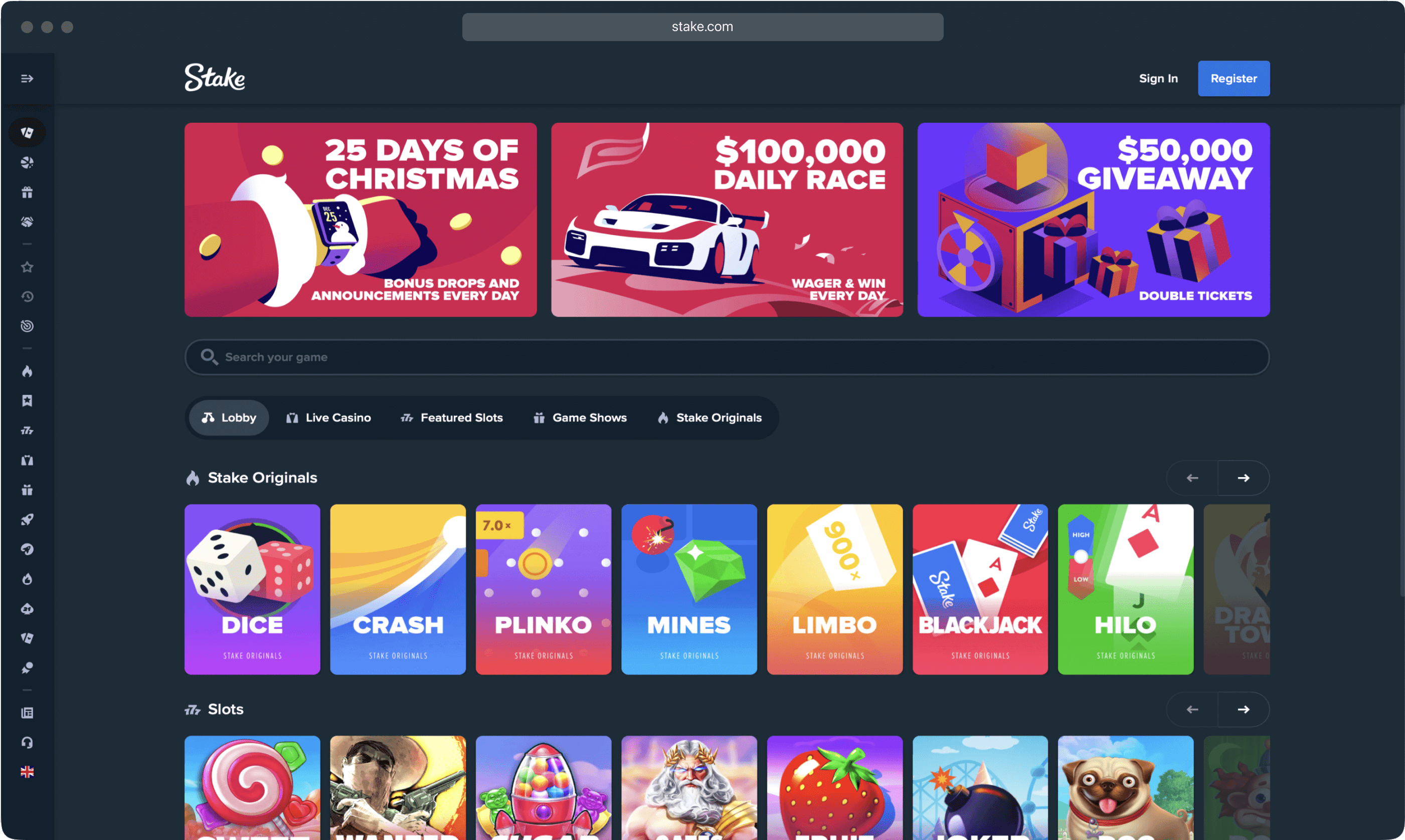 Conclusion
If you think you deserve first-class experience (and we think everybody does), you've come to the right place. Stake has just thought about everything. Promotions that are based on principle 'let the best win and be it big time', instant payments, great games and helpful support is just what it takes for the best quality casino. On top of that, website is colorful and animating but at the same no frills and very mobile friendly. We recommend Stake, most of all, because it is also on top of our choice list.
Casino Details
Established
License
Support
Live Chat, E-mail (English, Japanese, Spanish, Portuguese)
Languages
English, German, Spanish, French, Hindu, Indonesian
Game Providers
Amatic, Avatar UX, Belatra BGaming, Blueprint, Booming Games, Booongo, ELK Studios, Endorphina, GameArt, Games, Global, Gamomat, Golden Hero, Hacksaw Gaming, iSoftBet, NetEnt, Nolimit City, OneTouch, Playson, Push Gaming, Quickspin, Spinomenal, Stake Originals, Thunderkick, TrueLab, Wazdan, Evolution, Pragmatic Play
Payment Info
Cryptocurrencies
BTC, ETH (ERC20, BEP20), LTC, USDT (ERC20, BEP20, Matic), XRP, EOS, TRON (TRC20), BNB (BEP20), USDC (ERC20, BEP20, Matic), BCH, DOGE, APE (ERC20), BUSD (ERC20, BEP20), CRO (ERC20), DAI (ERC20, BEP20, Matic), LINK (ERC20, BEP20), MATIC (ERC20, BEP20, Matic), SAND (ERC20), SHIB (ERC20, BEP20), UNI (ERC20, BEP20)
Fiat Currencies
Min Deposit
0.002 BTC, 0.1 ETH, 0.25 LTC, 50 XRP, 750 TRX, 4 EOS, 5000 DOGE
Min Withdrawal
0.0002 BTC, 0.004 ETH, 2.5 USDT, 2 EOS, 0.04 LTC, 0.02 BCH, 30 DOGE, 20 XRP, 30 TRX, 0.015 BNB, 2.05 USDC, 0.96899 APE, 2.5 BUSD, 39.26 CRO, 2.5 DAI, 0.709 LINK, 6.117 MATIC, 4.67289 SAND, 370644.9220 SHIB, 0.683 UNI
Max Withdrawal
Withdrawal Time
5% Rakeback with the Code

Progressive up to 240% bonus
100% bonus (or up to 2.5 btc)

300% deposit bonus ($10 min) + 1 FS

50% or up to $300 + 100 FS

100% bonus (or up to 0.028 BTC) + 150 FS