BC.GAME Casino Review
And this is what we call a crypto casino! BC.Game just screams crypto! It is an embodiment of everything contemporary, everything that is happening just now. It has embraced crypto and Lightening network for payments, Twitter for media and it even has its own forum for discussion with peers. It's also active on BitcoinTalk, Medium, Discord, Telegram. It's an open-source project which you can find on GitHub…
If we should dedicate a zodiac sign to it, it would definitively be Aquarius – modern, original, socially inviting and technically cutting-edge. BC.Game's website is interactive and colorful, full of twinkling icons and features you haven't seen anywhere else.
On top of all that, BC.Game will give you bonuses and games as original as everything they do. It was founded in 2017 and it's operating under Curacao license.
You are about to read the most detailed review of BC.Game there is and learn literally everything you need to know in order to maximize your pleasure by using it's incredible and visionary features!
Pros
Deposit is not locked until you meet the wager
No time limit on wagers
You can exchange money on site (both fiat and crypto)
Almost instant deposits and withdrawals
Cons
Very high wagering requirements

Withdrawal fee a bit higher than standard miner's fee

You need to clear cache every few days in order for website to function properly
Important: If you're coming from China, Netherlands, Dutch Caribbean Islands, Curacao, France or the US note that these countries are unfortunately blacklisted for playing at BC.Game casino.
BC.GAME Tokens
Before we move on to bonuses and promotions, let's first explain original in-house tokens created by BC.Game casino – BCD and JB token.
How many times has it happened that you wanted to test a game before depositing? We assume a lot. 'Play for fun' options sometimes are just not enough to see how the multipliers work or to work-through a strategy. Well, JB token is here to get things right.
JB token is an in-house token that you can use for testing in-house games (doesn't work for independent slot providers or live games). You can't deposit, withdraw or swap it for other currencies.
Besides for testing games, when you climb up to VIP level 14, you can use it to increase the percentage of your cashback and on VIP level 22 it can lower your network withdrawal fee.
Pretty cool, right? We think this is a good way to show that you care about your players.
In addition to JB, like every true crypto platform, BC.Game also has its own coin BCD or BC Dollar which value is equivalent to 1 USDT. You can use BCD for playing games and tipping at the casino. You can't use it to deposit or withdraw funds, but you can exchange it at BC swap – an exchange incorporated in the casino website – to 37 crypto and 8 fiat currencies.
For newly registered players at BC.Game, BCD is probably most important because it is a currency in which you get your great welcome bonuses and Rain bonus (see below for more details). It works like any other token when you use it for playing. If you, however, decide to try out casino's Vault Pro feature, then BCD brings higher yield than other tokens.
Vault Pro is a special feature available in your wallet at BC.Game. It is a special bank operated by BC.Game where you can get up to 5% Annual Percentage Rate with over 100 available cryptocurrencies and 11 fiat currencies as well as 8 types of NFTs. In case you opt for savings in BCD you get incredible 10% interest rate per year and the best thing is that the interest is credited daily to your account. All you need to do is deposit some money to the bank and wait to reap your interest.
Is it becoming clear that after BC.Game you won't even think about visiting other casino sites online? They made sure you get everything at one place.
BC.GAME Casino VIP Program
You know those little things like your favorite blanket or a familiar hug that make you feel at home? Well, the perks of this VIP program are just like that. Moreover, there is a bonus for everybody's taste.
The program itself has 38 levels and 5 tiers (Bronze, Silver, Gold, Platinum and Diamond) and each of them brings certain perks.
As soon as you start your way through the casino you are level 1 (Bronze) player. In order to progress to the next level you need to wager $100. Actually, you need 100 XPs and for $1 wagered you get 1 XP.
To get to the level 3 you'll need again 100 XPs, but for other levels you'll need a bit more. So for level 4 and 5 you'll need 1000 XPs each and so on.
Every time you climb to another level you will get a Level up bonus which value progresses as you go up – a nice touch of appreciation from BC.Game casino. Also, the higher your level, the more perks and bonuses you get. So, when you finally reach the level 38, a whole new casino experience opens up in front of you. Besides exclusive VIP bonuses, you even get your personal host who stands at your disposal for everything you need!
BC.GAME Bonuses & Promotions
Why even expect that this original casino would have ordinary promotions? Well it doesn't! Like everything else in BC.Game casino, bonuses and promotions are unique and unseen. There are, of course, some classic promotions that warm up every player's heart, like Welcome package bonuses. However, besides these, they've come up with some promos which seem to totally suit true crypto players' taste. Most of them are wager based so you'll literally win more if you play more.
And now we can carry on to the Welcome package… But wait! There is a bonus even before the welcome bonus! If you deposit at least $10 worth of crypto in the first 20 minutes upon registration you will get the amazing 300% deposit bonus.
On top of that, as soon as you sign up and complete your registration a Lucky wheel page will pop up where you'll be able to try your luck with 1 free spin. And this is not just onetime treat, you will get 1 free spin on Lucky wheel every day! There are prizes in various currencies but the cherry on top is the prize of 1 BTC! As your levels progress, the prize will get bigger and bigger. It goes to unbelievably high 7 BTC!!! Lucky wheel is a game you'll always have at your disposal at the upper left corner in the Promo box. However, be mindful that if your win is in BCD, in order to cash out your winnings, you'll need to meet the wagering requirement of 500x (the first and every next time you win locked BCD on Lucky wheel).
Welcome package
Welcome package is also, you guess, different than in other casinos. It consists of 4 fractions of bonuses which you get on your first four deposits higher than specified minimum ($30 for First, $60 for Second, $120 for Third and $150 for Fourth). That means you can have many deposits lower than $30 but you won't get bonuses for those. However, the first time you deposit $30 or more (or equivalent in other currencies) the First deposit bonus will automatically be added to your account. And the same principle applies to all the other bonuses within the Welcome package.
What's more, these bonuses are progressive, so on every next deposit you get 20% higher bonus. These are the exact numbers:
On your First deposit you can get up to 180% bonus!
If you deposit between $30 and $80 (or equivalent in other currencies) you get 80% bonus (for example for $30 deposit you get $24 bonus).
For deposit between $80 and $400 you get 100% or double the deposit bonus (for $80 you get extra $80).
For deposits over $400 you get 180% bonus (for $400 you get $720 bonus).
For your Second deposit you are eligible to up to 200% bonus! The principle is the same as for First deposit bonus only the numbers are nice and round this time.
If you deposit between $60 and $120 it will bring you 100% or double the bonus ($60 deposit brings you $60 bonus).
For deposit in the range between $120 and $600 you receive 150% bonus (for example if you deposit $120 which is minimum for this range, you will get $180 bonus).
Finally, if you bank more than $600, your bonus will be 200% (for $600 you get $1200).
The third deposit bonus is 20% higher and it's up to 220% of your deposit!
Again, if you deposit between $120 and $300 you will have a chance to grab 100% bonus (so for $120 you get another $120).
If you deposit between $300 and $1500 you get 150% bonus (for $300 you get $450).
For deposits over $1500 you will be able to score 220% bonus (for $1500 deposit you win $3300 bonus).
And last in the set of the welcome bonuses, for your Fourth deposit you will have chance to get your hands on up to 240%! Same as for the previous three, the fourth deposit bonus is also divided into 3 levels.
This time if you deposit $150-$400 you will get 100% bonus or double the deposit.
If you deposit between $400 and $3000 you'll win 150% bonus (for deposited $400 you'll get $600 bonus money).
Lastly, for any amount higher than $3000, you will be rewarded by magnificent 240% bonus (i.e. $7200 worth of BCD for $3000 worth the deposit).
All of this sounds perfect, right? But, it seems there is a catch! All of the bonuses you get in BC Dollars are locked until you meet a pretty high wagering requirement of 1%x25%x.
Whaatt?? Oh, don't get confused with percentages, because we'll break it down for you. Basically, this means the wager for welcome bonus is 400x. So, for every 1 BCD of bonus money you get to unlock, you need to wager $400.
The logic that stands behind this wager is – play more, win more! In other words, you unlock your BTC rewards by playing i.e. wagering!
Important: If you want to redeem your unlocked BCD to use it for playing games at the casino, you can do so when you unlock the minimum of 10. If it happens that you've unlocked 10 but there is no option to redeem them, just wager a little bit more as the amount of 9.9 is rounded to 10, but the system won't let you take them before you actually reach full 10 BCD.
If you want to check the unlockable amount and the amount that you've already unlocked, you can do so by clicking on the dropping coin amount in the Promotions tab.
However, not everything is gloomy as it seems after this info. Unlike standard wagering in other casinos, at BC.Game there are some advantages that significantly reduce the atrocity of this high wager.
First of all, wager does not limit your deposit. That means you can play games, swap and even withdraw your initial deposit with no limitations whatsoever.
Second thing is that there is no time limit for wagering. So, you can take as much time as you like and set up your own pace for unlocking your bonus.
Last, but not least, all games – and that is more than 6000 games – equally participate in wagering! And while playing them you can use all the available promotions and rewards!
You can check your wager by going to the Statistics tab and clicking on Details. This way you can see how much money you've wagered in every coin you've used at BC.Game.
Other promotions
If you thought bonuses cannot be any weirder, you're wrong! BC.Game is breaking new ground with the whole new usage of shitcodes (that's how they call their promo codes)! Namely, if you run to it, don't skip it by any chance! Then click on the dollar icon in the icon box just below the main menu on the top left of the website, enter the code and unlock your coins which you get with no wagering requirementswhatsoever! The amount you get with each shitcode is a mystery and depends exclusively on your luck and your VIP level!
But, where do I find my shitcode, you're probably asking yourself while reading this? Look everywhere! They look similar to a BTC address, so basically look for strings of letters and numbers. They're most usually posted on BC.Game's Telegram channel (you should subscribe), but to make sure you don't lack excitement, shitcodes might be hidden on the forum, social media posts and/or threads, inside special announcements, in the community chat box on the website or special links (for example at our website).
If you subscribe to their Telegram channel, you'll even be able to participate in Flash Drops – drops of shitcodes in which the quickest, limited, number of lucky players get a reward in the range between $1 and $25 (currency varies). If you get to be one of those few lucky players, you can double your winnings by posting a screen shot of your claim with a hashtag #flashdrop (only 5 players can win this).
More sophisticated versions of shitcodes are shitlinks – they're similar to shitcodes but you don't need to copy and paste them, you just need to click on them.
Important: No matter how much you need it, don't ever, but ever, ask for a tip or bonus in the community chat box, at Telegram or any other social platform. They're pretty serious about not allowing it and you'll probably get banned.
What also adds to the atmosphere of gameplay are daily and weekly tasks you can see if you click on the darts icon in the Promotions box at the upper left. Weekly tasks reset every Sunday at midnight GMT and daily tasks reset every 24 hours. Every accomplished task (for example completing your account info, setting up your profile photo etc.) brings you a reward in certain amount of BCD which you can then exchange for other currency or use to play games. You should know that task rewards depend solely on wagers, so make sure you do as many tasks as you can on weeks you wagered a lot! This way you can boost your winnings to the maximum!
For those who need an extra push to participate in social events there is no better incentive than Rain (of coins) which sprinkle 6 lucky participants in the community chat box every 6 hours (in order to be able to post anything in the community chat box you need to wager at least $50). All you need to do is share your thoughts and wait for buckets of bonuses to be poured at you. You must be VIP level 4 or higher, though.
Similar to Rain is the game Coin drops where up to 100 bags of coins are on the grab for fastest players with VIP level 7 or higher and active in the community chat box.
If you've climbed up to the VIP level 3 or higher already, then you're entitled to participate in the Roll competition that takes place every day between 10 am and 10 pm. The only prerequisite is that you've placed at least 1 bet in 24 hours prior to the competition. You can chance your luck only once per day and if you're lucky enough to be in the top 10 players in this interesting dice game, you win the prize (amount and currency change every day).
A unique and very fun bonus is Hit Coco spider – a cute dinosaur avatar which is a trademark of BC.Game casino. When you spot Coco spider anywhere on site – and there is a chance for that every 6 hours – use your quick fingers because whoever clicks on Coco first has a chance of winning a Coco bonus! There is one limitation however – in order to get your hands on the reward you need to be at least VIP level 14.
On that same level 14 you become eligible for rakeback – another name for cashback. Depending on your VIP level you can get 5% (VIP level 14-21), 7% (VIP level 22-29), 10% (VIP level 30-37) or 15% (VIP level 38 or higher) return on your losses. And as we said, you can use that irritating and lovely JB token to boost your cashback for 5% for 1 hour.
Similar to task rewards, but for higher VIP levels is a Master medal reward available for players of VIP level 14 or higher. Basically, this is how it works. You get medals for various activities on site, such as being active in the chat room for 200 days or hitting Coco for 200 times. There are a lot of different medals and if you pull it off to collect them you get $10 000! If you collect 5 medals you get 20 BCD, 10 medals bring you 800 BCD, 15 bring 2400 BCD and for 20 medals you get even 10 000 BCD.
For times when BC.Game starts feeling like other home, i.e. when you reach VIP level 22, you are entitled to a recharge bonus which gives you an option to take multiple bonuses within a week period. All you have to do is wager at least $1000 in the previous week and decide whether you would like to receive your bonus once a day, every hour or every 10 minutes.
At the same level 22 you also unlock Monthly bonus, a surprise bonus which is tailored for each player individually based on the VIP level and previous 30-day activity that usually needs to be around 10k. Although there aren't any straight rules, it is most usually paid out in BCD and between 15th and 20th in the month.
Of course, there are regular tournaments and there is even a referral program where you can get your own referral link, share it with your friends and earn 40% of casino's revenue. And there is also a VIP program…
Payments (Deposits & Withdrawals)
BC.Game is the casino with probably the most payment options we've seen so far. Whether you want to use fiat, crypto or even NFTs – it's ok! On top of that, by using their exchange service BC Swap which is integrated into the website, you can deposit and withdraw even in Altcoins not accepted in other casinos.
If we think better, this is probably the best casino to play with altcoins. There was also an option 'Deposit from Altcoins' but it's not available at the moment. Right now, BC.Game support a total of 80 cryptocurrencies!
Important: For some currencies, for example XRP, XLM and EOS, you must include a tag or memo while filling in your deposit/withdrawal address. If you prefer scanning a QR instead copying your address, be sure to double check if the memo field is filled in or you need to type it in manually. When withdrawing, you will find a memo just below your BC.Game wallet address. If there is no memo, just fill in a string of randomly chosen 10 digits and you can proceed to verifying your transaction. If you miss to fill in the memo (which is the second part of your address) your funds will be very difficult to retrieve, sometimes even impossible.
Offered payments methods on the Deposit page are BTC, ETH, USDT, TRX, DOGE, XRP, LTC and LINK. However, as we said, there are a lot more options at your disposal. When you chose your currency, don't forget to choose your network if required.
What most players would value most is that payment services of BC.Game are integrated within the Lightning network so cashouts are lightning fast, virtually instant. Payment requests are handled through LNURL invoice protocol which ensures a seamless UX. Below the currency tab on the deposit page you will find the deposit address and a QR code for LNURL invoicing.
Important: Sometimes you won't be able to see the lower part of the webpage where QR code and other important options are. In that case, try scaling down your screen resolution to 80%.
Withdrawal is possible in over 80 crypto and 10 fiat currencies. Be mindful about the withdrawal fee of minimum 0.1% of the transaction amount. The fee is paid to the miners in order to speed up the transaction processing so you can get hold of your money as soon as possible and to prevent the network congestion.
Minimum withdrawal amount depends on the coin and it's always specified on the withdrawal page. There's no maximum withdrawal amount though, meaning it's always paid out in full.
As for the number of necessary confirmations in order to be able to see the money in your account, different coins require different number of confirmations: BTC requires 1-3 confirmations, BCH 2 of them, ETH and USDT require 6, BSV 9. Following currencies require between 6 and 12 confirmations: XRP, DOGE, LTC, XLM, TRX, EOS, DAI, USDC, XMR, NBX, VSYS, TRTL and VNDC.
It usually takes between 1 and 2 hours for deposit to get from your wallet to your account. However, know that BC.Game doesn't support contract wallets so if you're using one be prepared to wait for additional up to 12 hours in order to see the money settled in your account. If you can, it's always better to use Metamask, Atomic or Trust wallet, but you can always contact live support that would be able to help you in this situation.
You can also use some of the wallets compatible with the Lightening network such as Wallet of Satoshi, Bluewallet, Breez, Eclair etc.
Games & Providers
BC.Game is a true heaven for slot lovers. It's collection consists of almost 5.5k different slots from more than 70 providers including Pragmatic Play, BGaming, Belatra, BetSoft, Amatic and others. There is also a huge number of in-house provably fair games.
Important: Pay attention to the availability of NetEnt games as the list of restricted territories and games is substantial. Also, Universal monsters' games are available only in limited number of territories.
Except the Lucky wheel which we've already mentioned, there are also live casino games, roulette, dice games and many more.
One of our favorite games is Lottery which is taking place every day at 3 PM UTC. You can buy tickets until 5 minutes before the start of the lottery at price of 0.1 $ per ticket. What we like the most about this lottery (except the prizes) is that it is run on provably fair algorithm. A real refreshment when it comes to casino lotteries!
How does it work? Every lottery ticket consists of 6 numbers. First five numbers you can chose out of the sequence from 1 to 36 and the last, 6th number, from 1 to 10. You can pick the numbers yourself or you can let the machine assign them automatically. If you're lucky enough to win the main prize, you'll get to cash in no less than $100 000! For 5 lucky guesses you win a lot less but still very tempting $3000. For four numbers, prize is $20, for three it is $1 and the consolation prize if you missed all six number is free participation in the draw next day. And there're no wagering requirement attached to the prizes!
Lottery fans can enjoy their very own token – a BCL token (BC Lottery)! Its main purpose is to be the medium in which you can redeem your lottery tickets. Of course, you can use other currencies as well. A very cute feature and very much in spirit of crypto is that you can receive BCL from other player via Gift Link or send it to them using the Tip function.
Important: You can purchase BCL at BC Swap for any supported currency, but you CANNOT exchange it to other currencies!
Security & Fairness
As soon as you step into the website you can see that BC.Game casino really takes care about safety.
First of all, the platform is run on Ethereum smart contracts which grants transparency of all transactions.
Secondly, casino's code is open-source and completely verifiable on GitHub.
On top of that, there is a section (at the bottom left menu) for Provably fair games. It brings you to a page where you have a drop down menu in which you can chose a game and get a clear instruction on how to verify the results.
We also like that they encourage players to use 2-factor authentication for all actions (you can see reminders everywhere) and that they offer several self-exclusion options.
Sounds fair to us.
Support
There is a live support option available 24/7 via live chat (it sometimes happens that you can't access support and in that case you can try clearing cache). In our experience, staff is professional and knowledgeable which means a lot.
The website is available in 7 languages: English, Russian, Vietnamese, French, Korean and Japanese.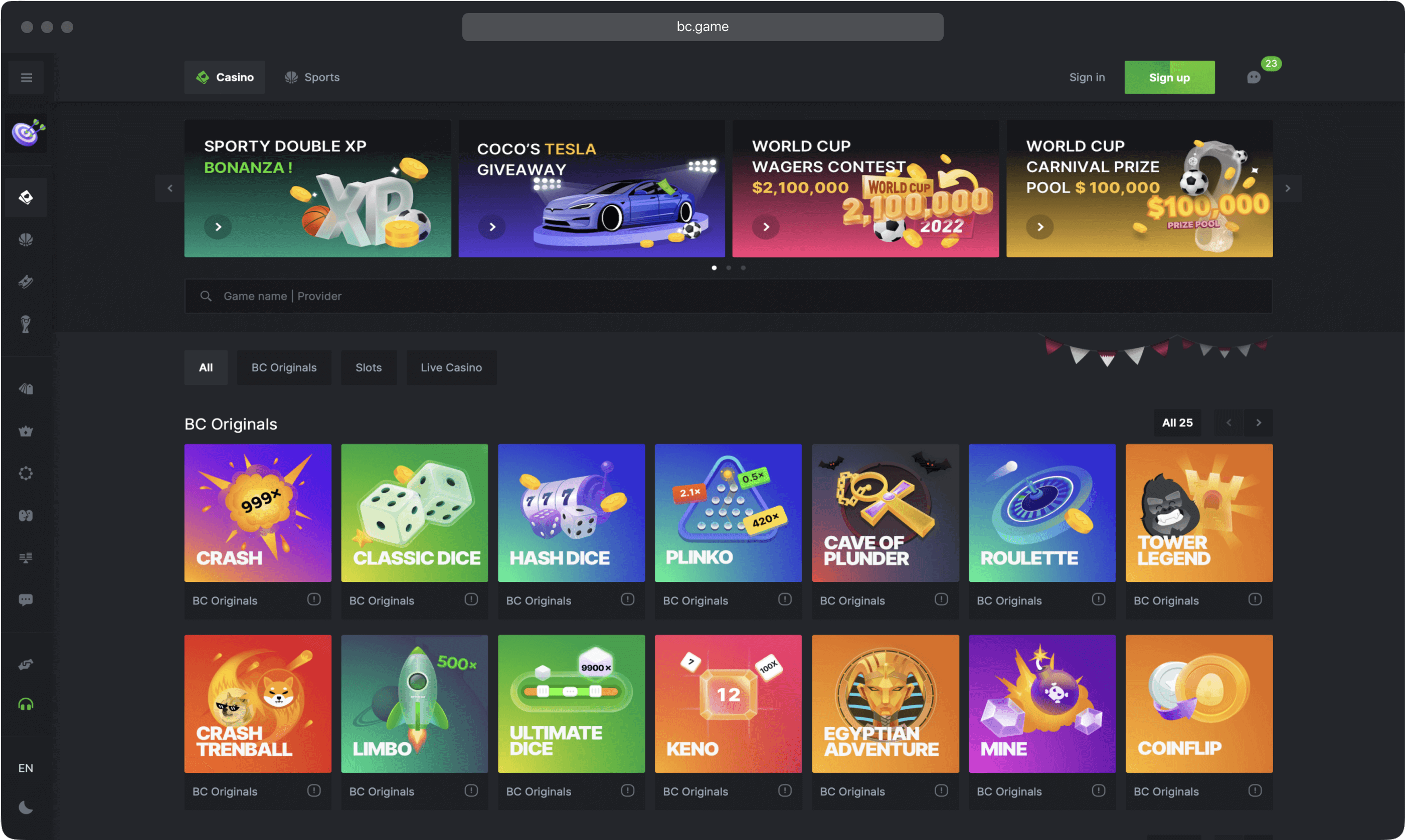 Conclusion
This 'community-based crypto casino' is truly pushing the boundaries of what we've known as a classic place to spend some bucks and have some fun. We truly believe BC.Game set out a new concept of playing and 'casino socializing' that will prevail in the future.
Super-fast website which is also mobile friendly and the app (both for Android and for iOS) are adjusted for contemporary players and the currency exchange option saves you precious time and unnecessary hustle.
Unique and tempting promotions and variety of games get sure you keep all of the casino gaming experience, just boosted and upgraded.
Even if you plan never to play there, you should at least see it! And you'll instantly get what we mean.
Casino Details
Established
License
Support
Languages
English, Polish, French, Vietnamese, Chinese, German, Portuguese, Spanish, Turkish, Hindu, Finnish, Russian, Thai
Game Providers
Evoplay, Pragmatic Play, PG Soft, Spinomenal, Habanero, Endorphina, Hacksaw Gaming, Microgaming, Amatic, Boongo, NetEnt, Red Tiger, ThunderKick, Gamomat, Push Gaming, NoLimitCIty, Mascot, BC Originals, BetSoft, NextGen Gaming, Quickspin, Yggdrasil Gaming, Rabcat, BGaming, IGaming2go, Ezugi, Playson, Betdigital, BigTime Gaming, ELK Studis, Casino Technology, Lightening Box, Booming Games, Ainsworth Gaming Technology, IronDog Studios
Payment Info
Cryptocurrencies
BTC, SAT, ETH, DOGE, USDT, BNB, LTC, XRP, TRX, BCH, XLM, DOT, LINK, EOS, USDC, DAI, XRM, BSV, UNI, KSM, AMPL, CRO, SUSHI, AAVE, WBTC, SNC, YFI, DASH, MANA, BAT, ENJ, CRV, PAR, MATIC, SHIB, FLOOR, FLOKI, DOG, NFT, SUNNEW, AMP, SQUID, JST, SUN, BTT, GODS, KUMA, ELON, GM, BIT, SOL, YGG, HEX, BUSD, DEAD, AXS, WCK, CAKE, TW, VNDC, VSYS, EURS, AVC, NBX, TRTL, BANANO, PEOPLE, ZIL, SAND
Fiat Currencies
Min Deposit
Min Withdrawal
Max Withdrawal
Withdrawal Time
5% Rakeback with the Code

0.286 BTC + 500 Free Spins
100% or up to $300 + 100 FS

110% bonus or up to 1 BTC + 300 FS

100% bonus (or up to 0.028 BTC) + 150 FS

100% bonus (or up to 2.5 btc)